Discover Pine Straw Mulch
The Most Natural and Sustainable Choice
Bales
Local pick-up at Maxwell's Hardware in Downingtown, PA ($13.99/Bale) or Sun Nurseries in Woodbine, MD ($16.95/bale) or Turtle Creek Farm in Lewisburg, PA ($13.99/bale)
FREE Delivery (minimum order required)
We deliver bales to PA, DE, NJ, MD, VA and NY.
*If you are in the Mid-Atlantic region and you've previously ordered pallets from other vendors, we recommend receiving non-pallet bale delivery from us on our local truck. Bales will be stacked in the location of your choice. Pallet disposal is no longer a concern.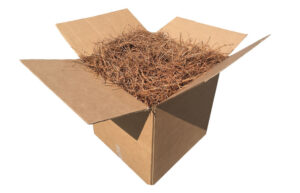 Boxes
FREE Nationwide Box Delivery – $159.95
Each box is 24"x 24"x24" and contains ~3 bales and weighs ~45/lbs.
Coverage Area: ~100 + Sq. Ft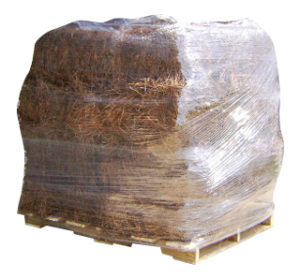 Pallet
Pallet orders are comprised of bale cost, freight and shrink wrap fees (per pallet) and are most suitable for customers outside of our local truck delivery area.
Each pallet can be customized with the # of bales your landscape project requires (max 36 bales per pallet).
*If you are in the Mid-Atlantic region/our local delivery area and you've previously ordered pallets from other vendors, we recommend receiving non-pallet bale delivery from us on our local truck. Bales will be stacked in the location of your choice. Pallet disposal is no longer a concern.

Longleaf Pine Straw Mulch
The most ecologically sustainable mulch available

Reestablishing the breadth of the longleaf pine tree ecosystems will benefit our planet by improving climate resilience and ecosystem vitality. Using longleaf pine straw creates a positive demand for the planting of more longleaf pine trees. Through our partnership with the Longleaf Alliance, additional trees are planted which creates further sustainability.

Benefits of Pine Straw Mulch
Natural weed deterrent
Adds a unique texture to any landscape design
A natural product for trees and plants that is high in nitrogen and gradually decomposes into a fertilizer
An environmental, conservation & ecology-minded mulch
Insulates tender roots from temperature extremes
Conserves soil moisture by reducing water evaporation rates and moisture loss
Encourages water infiltration into the soil and reduces runoff
Eliminates erosion impact caused by wind and rain
Keeps some vegetables from forming mildew, mold, and rot
Adheres well to slopes and does not wash away as easily as other mulches during heavy rain
Does not have to be removed before new application
Fresh straw can be placed atop old straw to revitalize color
Preferred by landscapers and homeowners because bales are easier to work with than hardwood bark mulches
Uniform, neutral color that showcases flowers and plants
Retains moisture in the soil and around plants better than other mulches
Does not harbor artillery fungus or termites
Long lasting mulch that is easily spread
Mid-Atlantic Pine Straw Cares
Giving back to and preserving the environment is the foundation upon which our company was founded.
We are committed to continual natural resource conservation and stewardship of all lands. The pine straw you purchase is produced by The Longleaf Pine Tree (Pinus palustris). The Longleaf Pine once covered most of the southeastern United States from Florida to Virginia to Texas. This valuable tree provided the tar, pitch and turpentine, as well as the masts and timbers of the world's sailing ships for over 200 years. Although reduced to less than 7% of its original range, The Longleaf Pine continues to produce the best and longest lasting pine straw mulch in the U.S. The more demand that we create for Longleaf Pine Straw Mulch, the more Longleaf Pine Trees are planted. In 2018, 2019 and 2020 through our partnership with the Longleaf Alliance, we donated 3,000 Longleaf seedlings to be planted.

We are the only known Pine Straw/Pine Needle company to supply the Mid-Atlantic, New England, Midwest and Canada that complies with Federal and State inspection guidelines regarding the shipping of nursery stock from the Southeastern U.S.
What our customers say
Amy Karwoski
August 14, 2022
YES! We started using pine straw this past year, while weeding end of the summer weeds, I found that it has made weeding so much easier than regular mulch. Such a beautiful way to keep your landscaping looking clean ! Definitely getting more😁
Garden Thoughtfully
July 21, 2022
I have used Mid-Atlantic pine straw on multiple client installs. It looks great, is easy to spread and is weed free. I loved the final look of this beautiful pollinator garden- removing the weeds, putting down fabric and installing the pine straw gave the project the hard edge it needed to differentiate between weed and garden. Beautiful final result.
Kevin Foley
June 27, 2022
Love pine straw, looks great and easy to spread. Over the last couple of years I've been converting more mulch beds to pine straw. Quicker and easier on the back to put down. Highly recommend!
Did my entire yard mulch beds with pine straw mulch. On my 3rd 2400 square foot pallet. Look is amazing and it upgrades the property. I live in a million dollar home.
We lived in North Carolina and always loved the look of the pine straw. When we moved back north, it took us some time to find a local dealer. We love the look, and the service. I have used both pick-up and delivery options, both of which are priced accordingly. Highly recommend
Trish Adams
June 22, 2022
This is our second year of ordering from Mid-Atlantic and we couldn't be happier with the results! We weren't sure how it would hold up given the weather here in PA, but It looked great through the winter and just needed a fresh-up in the spring. We ordered more bales to complete our side yard path. It looks amazing! Highly recommend! Thank you!
I have made two orders from Mid-Atlantic Pine Straw. Both transactions were perfect! One of the purchases was last minute, day of. I was able to purchase online and pick up within hours. The pine straw is packaged very well and it is easy to move and spread. I love the look vs. traditional mulch. Price point is reasonable too. I highly recomend this company and their high quality product!
craig hoffman
July 29, 2021
I am very happy with the results of the pine straw mulch. Though light weight, this mulch has not washed out nor decomposed quickly like bark mulch. After many large storms, some dropping 4 inches of rain in an hour, the pine straw has stayed put. I will be ordering more next year. Plants can easily grow through it and weeding the beds is still easy.

Subscribe to our Newsletter
Please add your e-mail address here for updates and announcements.
We respect your privacy and we won't sell your e-mail address.